A stroke is a serious matter and can happen to anyone at any time. One stroke occurs every 40 seconds in the United States. According to the Center for Disease Control and Prevention (CDC), strokes are the fifth leading cause of death in the United States. The good news is strokes are preventable and treatable with post-acute rehabilitation. 
The best brain injury rehabilitation centers offer a comprehensive program specifically tailored to stroke patients. Post-acute refers to a program that patients attend after initial treatment, usually at a hospital or dedicated facility. Patients will have access to medical doctors, physical therapists, psychologists, occupational therapists, dieticians, nursing staff, and case managers to work on their specific needs.
Of course, the goal is to prevent a stroke initially. There are several causes of stroke you should be aware of so steps can be taken toward prevention. 
Causes of Stroke 
If you have already had a stroke or transient ischemic attack (TIA), you are more likely to have another event. TIAs are mini-strokes that are more common in the elderly population. High blood pressure is also a risk factor for stroke. It is, in fact, the leading cause of stroke (2020). It is vital to have your blood pressure checked regularly and start a medication or lifestyle modification program under the care of a physician. 
Certain diseases increase the likelihood of stroke. Heart disorders such as coronary artery disease and atrial fibrillation are significant risk factors. Both are treatable under physician care. 
Diabetes increases the risk of stroke. Diabetes contributes to a lack of oxygen to the brain, while also being a risk factor of high blood pressure. 
Other diseases, such as sickle cell anemia, can cause a stroke. Due to the abnormal formation of blood cells as a result of the disease, the "sickled" red cells can get caught in blood vessels, blocking flow to the brain, causing a stroke. 
Importantly, smoking and obesity are significant contributors to stroke. If lifestyle modifications are necessary to quit smoking or lose weight, a physician can help design a program or prescribe helpful medication, so you succeed.
Symptoms of Stroke 
Signs of a stroke can present similarly in men and women. Numbness or weakness in the face or a body part such as an arm or leg is one sign of a stroke. These symptoms may occur throughout one side of the body. Someone experiencing a stroke may have confusion, trouble speaking, or difficulty understanding speech. 
Sudden trouble seeing out of one or both eyes may be an indicator of stroke. The person may also have difficulty walking, dizziness, a loss of balance, or lack of coordination. 
It is important to note that someone having a stroke may have one or all of these symptoms. Some people have a stroke without showing any signs at all. 
Recognizing Stroke Signs and Symptoms F.A.S.T.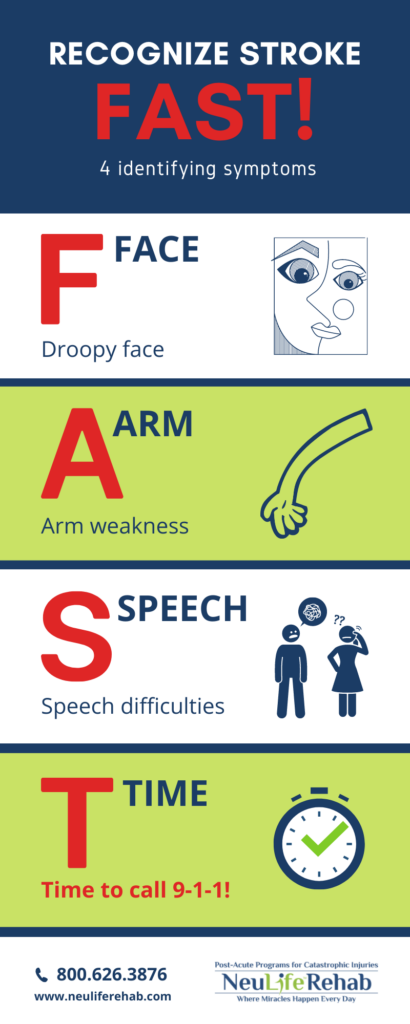 If your loved one has a stroke and is hospitalized, finding the best brain injury rehabilitation center nearby is essential. 
NeuLife is an inpatient post-acute rehabilitation center located in Florida. Their facility and multi-disciplinary staff combine to offer the best environment for stroke rehab. NeuLife offers several unique amenities, including trained chefs, arts and crafts, a theatre, outdoor gardens, a game area, and on-site equine therapy. You can be assured if rehabilitation is necessary, you are receiving state of the art treatment in a healing environment. It is what you or your loved one deserves so you may reclaim your life. If you would like more information about our services, give us a call at 800.626.3876 or to make a referral, just click here.
References: National Center for Chronic Disease Prevention and Health Promotion (2020, April 7).: Stroke
The material contained on this site is for informational purposes only and DOES NOT CONSTITUTE THE PROVIDING OF MEDICAL ADVICE, and is not intended to be a substitute for independent professional medical judgment, advice, diagnosis, or treatment. Always seek the advice of your physician or other qualified healthcare providers with any questions or concerns you may have regarding your health.