Brain injury is shocking and life-altering. You question why this happened to you? What are the options? Will life ever be the same? 
Life after brain injury looks different for everyone because critical factors vary from person to person. Varying factors include the type of injury, age, underlying medical conditions, and even mental health. 
There are things you can do to improve brain injury outcomes. Education and the right brain injury residential facility are critical factors for a successful recovery. This article addresses three things to know about brain injury recovery. 
There are Stages to Brain Injury Recovery
Right after brain injury, the brain goes through changes. Swelling, bleeding, or changes in chemistry may occur in the first few weeks. 
The patient may not be responsive at this time. They may be in a coma, vegetative state or have limited consciousness. 
Once the patient progresses through the critical stages of limited consciousness, confusion and disorientation often follow. Attention, mood, and sleep can all be affected, causing incredible frustration for both the patient and family. 
Patience and perseverance are essential. There will be days that are harder than others, but progress will be made with time. There will be waves of stagnation and movement as treatment moves forward. Adequate post-acute rehabilitation will help the patient move in the right direction. 
Post Acute Rehabilitation is Essential
There are various aspects to rehabilitation that come together to help a patient regain functioning. Physical therapy, occupational therapy, speech therapy, counseling, vocational skill training, and cognitive therapy all should be included in the program. 
Medication therapy also plays a role in brain injury recovery. Common medications prescribed include anti-anxiety agents, anticonvulsants, analgesics, and stimulants. Different drugs may be helpful, depending on the patient's symptoms and progress. 
You May Need a Brain Injury Residential Facility
Residential brain injury facilities are sometimes referred to as inpatient neuro rehab care centers. Patients live on-site for rehabilitation and medication management. 
Facilities should offer a structured program tailored to patients' specific needs as no TBI looks the same. The goal should always be to regain physical, psychological, and sensory skills that may have been lost due to illness or injury. 
Residential brain injury facilities are helpful both for patients and families. It allows the patient to rehab in a supportive atmosphere while giving space for the family to heal. Community involvement is also a pivotal component of residential recovery, helping patients transition back into their community with time.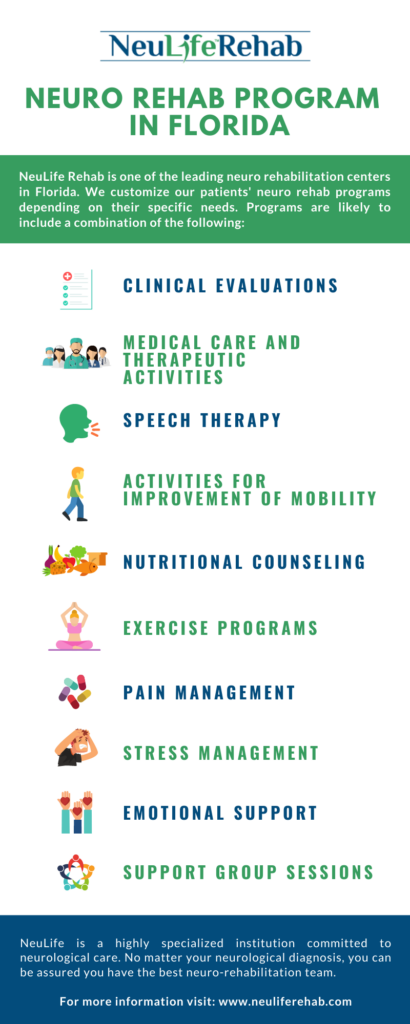 Learn More About Brain Injury Residential Facilities
in Florida -
NeuLife Rehab
NeuLife is a top brain injury rehabilitation center in Florida. Our programs are customized to meet each patient's individual needs, and care plans are structured to promote the highest level of functional independence and successful community reintegration. 
Through the skills and experience of our highly trained team of clinical experts, we can treat a wide range of diagnoses and injuries at our brain injury facility.
If you have any more questions concerning post-acute brain injury rehabilitation or any other issue regarding brain injury, call us to make an appointment or schedule a tour today.
References
Brain Injury Association of America (2020). About brain Injury. Retrieved from  https://www.biausa.org/brain-injury/about-brain-injury/treatment/medications
Novack, T. and Bushnik, T. (2010, March 23). Understanding TBI: The recovery process. Retrieved from https://www.brainline.org/article/understanding-tbi-recovery-process
The material contained on this site is for informational purposes only and DOES NOT CONSTITUTE THE PROVIDING OF MEDICAL ADVICE, and is not intended to be a substitute for independent professional medical judgment, advice, diagnosis, or treatment. Always seek the advice of your physician or other qualified healthcare providers with any questions or concerns you may have regarding your health.