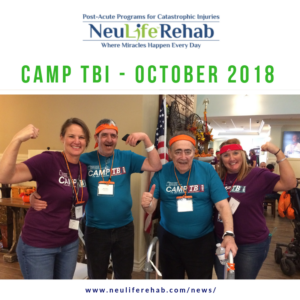 With great pleasure and pride, we would like to inform you that NeuLife Rehab partnered with the Brain Injury Association of Florida (BIAF) and hosted  Camp TBI on October 27, 2018.  Over sixty traumatic brain injury survivors and caregivers attended.  
As one of the largest residential post-acute rehabilitation facilities in the Southeast with specialized rehabilitation programs for a wide range of catastrophic injuries, we want to be actively involved in our community, and in the lives of the TBI survivors, their caregivers, and family members.

This October's Camp TBI covered a wide range of activities. TBI survivors participated in Pumpkin Painting, Cooking Classes, Family Feud, along with outside events. The caregivers enjoyed presentations from Djenaba Burns, BIAF President, and CEO and Janet Ott, NeuLife Administrator, Michael Samogala, Director of Education and Elmer Perez, Mental Health Counselor on Post-Acute Rehab Transitions. The caregivers were then pampered with massages and manicures. The day ended with a fun karaoke party which was enjoyed by all of the participants.  

Camp TBI is an event designed to help all members of the brain injury community experience the feeling of togetherness by connecting the TBI family to a lifetime of optimism and opportunity.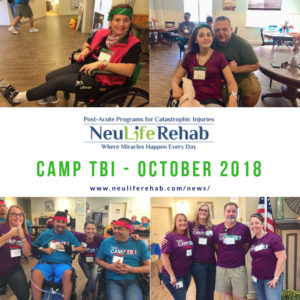 During this unparalleled occasion, TBI experts and specialists make every effort to deliver personalized methods of assisting every survivor in reaching their highest level of recovery. It also provides an opportunity for each caregiver to recharge and stay motivated in offering the best possible care for their loved one.
You can learn more about Camp TBI by visiting the event's YouTube channel or by reading information about this year's edition on Camp TBI's website.
NeuLife Rehabilitation -
brain injury facility
, where miracles happen every day!

NeuLife Rehabilitation is a residential post-acute brain injury facility, one of the largest in the Southeast, specializing in catastrophic rehabilitation.
Our programs are customized to meet the individual needs of each patient, and care plans are structured to promote the highest level of functional independence and successful community re-integration. Through the skills and experience of our highly trained team of clinical experts, we are able to treat a wide range of diagnoses and injuries at our brain injury center.
Watch this video to find out more about what we do.
If you have any more questions concerning catastrophic rehabilitation or any other issue regarding traumatic brain injury (TBI), call us to make an appointment today. You can also schedule a tour to visit our brain injury facility.
Click on individual pictures to enlarge: