What is
Mild TBI
?
A mild traumatic brain injury (TBI) is defined as the result of a forceful motion of the head or impact, causing a brief change in the mental status.
Mild TBI can be classified as mild if loss of consciousness, confusion and/or disorientation are shorter than 30 minutes. While using MRI and CAT scans is often normal, the individual will experience cognitive problems, such as, headache, difficulty thinking, memory problems, attention deficits, mood swings and frustration.
Other names for mild TBI include: concussion, minor head trauma, minor TBI, minor brain injury, and minor head injury.
Common Symptoms of Mild TBI
Mild TBI is the most prevalent type of TBI, but unfortunately it is often missed at the time of the initial injury. Post injury symptoms are often referred to as post concussive syndrome. 15% of people with mild TBI have symptoms that last one year or more. The symptoms include:
Fatigue

Headaches

Visual disturbances

Memory loss

Poor attention/concentration

Sleep disturbances

Dizziness/loss of balance

Irritability-emotional disturbances

Feelings of depression

Seizures
Problems with the diagnosis
The biggest problem with mild TBI is that these symptoms may not be recognised, or even present, at the time of the injury. In the beginning everything seems ok, a patient resumes daily activities as if nothing happened. Symptoms can appear as long as a week after the injury has been inflicted. They are often subtle and difficult to spot by the patient and the family - or even doctors
That's why it is important to pay attention to any, even minor, changes in behaviour, thinking, or performing daily tasks at home or at work. If you observe them - seek medical help.  
The dangers of Mild Traumatic Brain Injury
Even though this type of TBI is called "mild", the effects on the family and the injured person can be devastating. When an injured person gets  sent home from the hospital due to lack of symptoms, the person remains unaware of the basis for his or her altered ability to function later on. Sometimes the individual assures him- or herself that they are just fine and don't require help. They wouldn't even enter the healthcare system database, let alone use catastrophic rehabilitation programme.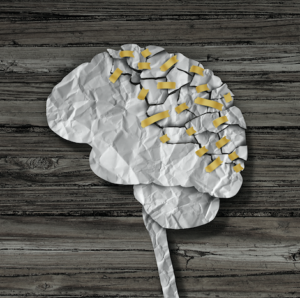 When Mild TBI Is No Longer "Mild"
Mild TBI symptoms are expected to disappear in the first days or weeks after sustaining an injury. The patients wait (while oftentimes suffering from  cognitive, physical, and emotional effects) in hope of getting better very soon. The problem is that some symptoms might not disappear by themselves. The consequences of a mild injury are often similar to those of moderate and severe injuries, if not treated.
Positive outcomes for patients with minor TBI are based on their knowledge about what can be expected in the days, weeks, and months following injury. As problems with functioning develop, the affected person needs to have access to help in learning how to compensate for deficits and how to obtain a catastrophic rehabilitation programmes - the sooner, the better.
The truth is - no-one can do this alone. Every patient deserves support from the best team of medical professionals to assist them throughout the process of catastrophic rehabilitation.
NeuLife Rehabilitation - brain injury facility, where miracles happen every day.
NeuLife Rehabilitation is one of the largest residential post-acute rehabilitation facilities in the Southeast with specialized catastrophic rehabilitation programs for a wide range of catastrophic injuries.
Our programs are customized to meet the individual needs of each patient, and care plans are structured to promote the highest level of functional independence and successful community reintegration. Through the skills and experience of our highly trained team of clinical experts, we are able to treat a wide range of diagnoses and injuries at our brain injury center.

If you have any more questions concerning catastrophic rehabilitation, or any other issue regarding traumatic brain injury (TBI), call us to make an appointment  today. You can also schedule a tour to visit our brain injury clinic.
Sources:
https://www.brainline.org/article/what-impact-will-mild-tbi-have-persons-life
https://headinjuryassoc.org/what-is-tbi/
The material contained on this site is for informational purposes only and DOES NOT CONSTITUTE THE PROVIDING OF MEDICAL ADVICE, and is not intended to be a substitute for independent professional medical judgment, advice, diagnosis, or treatment. Always seek the advice of your physician or other qualified healthcare provider with any questions or concerns you may have regarding your health.