Acquired Brain Injury (ABI) - what is it?
Acquired brain injury refers to any type of brain damage that happens after birth. Causes of ABI include disease, blows to the head, alcohol and drug use, or oxygen deprivation.
ABI does not entail damage to the brain resulting from neurodegenerative disorders.
Coping with the outcomes of acquired brain injury can be challenging for everyone, including family members.
2nd edition of a book about ABI
In July this year, Springer has published a new, improved edition of a comprehensive book called "Acquired Brain Injury: An Integrative Neuro-Rehabilitation Approach". It can be of interest to all healthcare professionals in the field of neurology, and specifically ABI (Acquired Brain Injury), as well as ABI survivors and their families.
The book presents a comprehensive interdisciplinary team approach to the rehabilitation of acquired brain injury (ABI) survivors. Medical and clinical specialists will receive a deeper understanding of not only each other's roles but of their corresponding roles in this field.
Book contents
In this publication, you will find, among many subjects:
a comprehensive chapter on physical therapy in ABI, 

updated chapters on neuropsychology, speech-language and occupational therapies, including new technology and strategies as well as evidence-based methods,

psychosocial challenges and treatment following ABI,

the value of family as team members,

post neuro rehabilitation choices and experiences.
"Acquired Brain Injury: An Integrative Neuro-Rehabilitation Approach" 2nd edition provides evidence and context concerning the rehabilitation goals and processes for rehabilitation specialists, interdisciplinary students of neuro rehabilitation and practicing clinicians.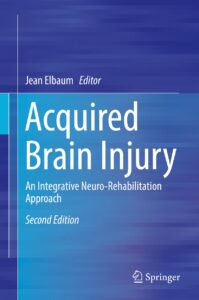 Many case examples are provided, illustrating a wide spectrum of challenges and steps of recovery. This edition features 3 completely new chapters and various updated chapters by new and returning authors (with Jean Elbaum as the editor).
NeuLife Rehabilitation is one of the largest residential post-acute rehabilitation facilities in the Southeast with specialized neuro rehabilitation programs for a wide range of catastrophic injuries. 
Our programs for neuro rehab are customized to meet the individual needs of each patient, and care plans are structured to promote the highest level of functional independence and successful community reintegration. With the skills and experience of our highly trained team of clinical experts, we are able to treat a wide range of diagnoses and injuries at our brain injury facility.
If you have any more questions concerning neuro rehab, brain rehab, or any other issues regarding brain injury, call us to make an appointment today. You can also schedule a tour to visit our brain injury facility. 
Source: 
https://www.springer.com/gp/product-marketing-tool/flyer/9783030166120?downloadType=PRODUCTFLYER 
The material contained on this site is for informational purposes only and DOES NOT CONSTITUTE THE PROVIDING OF MEDICAL ADVICE, and is not intended to be a substitute for independent professional medical judgment, advice, diagnosis, or treatment. Always seek the advice of your physician or other qualified healthcare providers with any questions or concerns you may have regarding your health.