Military service may take a heavy toll on one's body. The price that the heroic men and women of the U.S. military pay for their service can be extremely high. For this reason, NeuLife Rehabilitation proudly helps Veterans and their families overcome life-altering consequences of their patriotic service to our country. 
Neulife offers veterans rehabilitation at our brain injury residential facility. Whether your loved one suffers from PTSD, a TBI, or stroke, we can offer guidance and rehabilitation services to help them to reclaim their life. 
The goal of post-acute rehabilitation for veterans with brain injuries is to  improve not only your loved one's health but also help prepare them for life at home, work, and within the community. With the help of a specialized rehabilitation team, an individualized road map to recovery will be developed. 
At Neulife we value the education of family members so they can better understand their loved one's diagnosis. Family involvement is critical to the success of patients once they return home. Often veterans have unique rehabilitation needs dependent upon certain medical diagnoses.
The real cost of trauma
The advancement in medical technology has allowed many servicemen to survive severe injuries, but for many survival came at the cost of traumatic limb amputations and associated mental scarring, which, in itself may lead to devastating outcomes. 
Apart from disabling physical injuries, veterans experience mental health disorders, substance abuse-related disorders, post-traumatic stress disorder (PTSD) and traumatic brain injury (TBI) at disproportionate rates compared to their civilian counterparts. Every day, an average of twenty American veterans commit suicide. The numbers are staggering and young veterans aged 18–44 are most at risk, according to the National Institutes of Health. 
PTSD
Military personnel exposed to the traumatic events of combat, assault, serious injury, and ultimately the threat of death, may have to deal with the consequences of such exposure long after the distressing event has ended or the threat has been removed. 
Whether directly or indirectly witnessed, the experience is ingrained in the memory and often leads to traumatic event flashbacks, trouble sleeping, nightmares, anxiety, anger or susceptibility to alcohol and drug abuse. 
When these symptoms persist and have long-lasting negative effects on one's life it could be Post Traumatic Stress Disorder (PTSD). The rate of PTSD may be up to 15 times higher in active duty service members compared to civilians.
TBI
Center for Disease Control defines a traumatic brain injury (TBI) as a disruption in the normal function of the brain that can be caused by a bump, blow, or jolt to the head, or a penetrating head injury. TBI in military personnel usually results from close contact with an explosion, often in the form of a significant blow to the head or body.
Symptoms vary and depend on the severity of TBI, but may include headaches, fatigue or drowsiness, slurred speech, memory problems, mood changes, and mood swings, unusual behavior, convulsions, and seizures - according to the National Alliance of Mental Illness.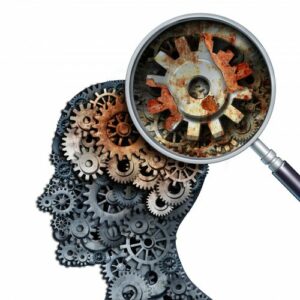 The number of veterans returning from overseas with a brain injury has risen from 10,000 in 2000 to approximately 20,000 today. It is likely due to a combination of identification and increased incidence. As a result, there is an increased need for rehabilitation for veterans.
Stroke 
Strokes are the fourth leading cause of death in the United States, accounting for 1 out of every 18 deaths. 
A stroke is essentially an attack on an organ, similar to a heart attack, but on the brain. Blood supply to the brain is cut off usually due to a clot (ischemic stroke). The second type of stroke is a hemorrhagic stroke which causes bleeding in and around the brain. There are also transient ischemic strokes (TIA) which is a "mini-stroke" with symptoms that last less than 24 hours. 
Veterans with mental health conditions have a higher risk of stroke. Specifically, anxiety, depression, psychosis, and bipolar disorder pose an increased risk. 
Another study found young and middle-aged veterans with PTSD have an elevated risk of stroke. It is thought that exposure or memories of trauma increase inflammation in the body leading to an increased risk of clots leading to stroke. It is an area of growing public health concerns for veterans and other sufferers of PTSD.
Approximately 6,000 VA admissions are due to stroke and the costs are staggering:
$111 million for acute inpatient care

$75 million for post-acute inpatient care

$88 million for follow up care in the first six months
Based on this research, it is imperative for mental health to be considered when evaluating the risk of one or repeat strokes in veterans.
How Veteran's Rehabilitation Programs at NeuLife works
The veteran's administration recognizes the importance of stroke rehabilitation. Veterans qualify for assistance for post-acute rehabilitation. In order to qualify, they must have served 90 days in active duty during wartime and meet pension requirements. 
As a registered residential treatment facility through the VA Choice Program, and an organization managed and operated by many Veterans, our dedication to those who have served our country runs deep. Our plans for Veterans range from residential rehabilitation to tailored outpatient services. 
NeuLife's residential rehabilitation provides personalized care to treat the difficult challenges of TBI and PTSD with the singular purpose of achieving the best possible outcome for the Veterans. Our post-acute rehab programs and care plans, guided by an interdisciplinary team of clinical experts, are structured to promote the highest level of functional independence and successful community re-integration. 
In addition to individualized treatments, we also work closely with relatives to address issues that may affect the family as a whole. We proudly accept referrals from the Veterans Administration (VA).
If your loved one is in need of a neurological rehabilitation center, Neulife can offer the guidance, support, and assistance you need. We offer a customized neuro rehabilitation program depending on specific patient needs. 
Programs are designed to optimize patient coordination, strength, movement, balance, muscle function, and overall wellness. The end goal of post-acute rehabilitation is for your loved one to regain functioning and independence, with improvement in overall quality of life. 
To learn more about post acute rehab and residential veterans rehabilitation contact us, or schedule a tour! Call us at 800-626-3876, or send us an email on info@neuliferehab.com. Visit us at 2725 Robie Avenue, Mount Dora, Florida 32757.
The material contained on this site is for informational purposes only and DOES NOT CONSTITUTE THE PROVIDING OF MEDICAL ADVICE, and is not intended to be a substitute for independent professional medical judgment, advice, diagnosis, or treatment. Â Always seek the advice of your physician or other qualified healthcare providers with any questions or concerns you may have regarding your health.