If you or a loved one recently suffered a brain injury, you may be in awe at the number of professionals involved. You may wonder who these people are and how are they going to help. If you are receiving treatment at an inpatient neuro rehab clinic, it can be unclear. 
Included in the team are staff across many disciplines. All will play an essential role in your brain injury recovery. 
How Physical Therapy Can Help
The goal of physical therapy is to restore motor functioning. A physical therapist will help you strengthen muscles and improve coordination. They also help with endurance and the movement of joints. 
The physical therapist will play a key role in determining if you are ready to reintegrate back into the community. They help you gain independence by developing a treatment plan with an individualized strategy to achieve desired outcomes. 
What is Occupational Therapy?
Occupational therapists help you to develop, recover, and maintain activities of daily living. They will help you to improve motor functioning and reasoning abilities. The tasks they work on with you are vital in getting you back to work and your regular lifestyle. 
Additionally, occupational therapists help you to learn to compensate for any permanent disability. The goal is to help you get back to a productive, satisfying, fulfilling life. 
Why You Need Speech Therapy
Working with a speech therapist is important. A speech therapist in brain injury residential facilities will diagnose and develop a program to improve communication. They evaluate speech, reading, writing, and expression. 
Furthermore, a speech therapist helps with maintaining attention, organization, and sequencing. The specialist will also work with you on memory, which is often affected when you have a brain injury. 
How does Psychological Counseling help in Inpatient Neuro Rehab?
Counseling can help you adjust to disabilities faced when you have a brain injury. A psychologist will use therapeutic tools to help you find improvement in functioning. 
There is no reason to be ashamed to have psychological counseling. Counselors help to restore cognitive ability and address any behavior struggles occurring as a result of an injury. Counseling may be individual, family, or group, depending on your individual needs. 
Why Vocational Counseling is Necessary
Vocational counselors help you to restore function and get back to work. They can also help develop new career goals or find ways to be productive in life. 
Vocational counselors in post-acute rehabilitation clinics help to set up job coaching or school strategies. They can help you to find a job, schooling, or volunteer work that suits your interests.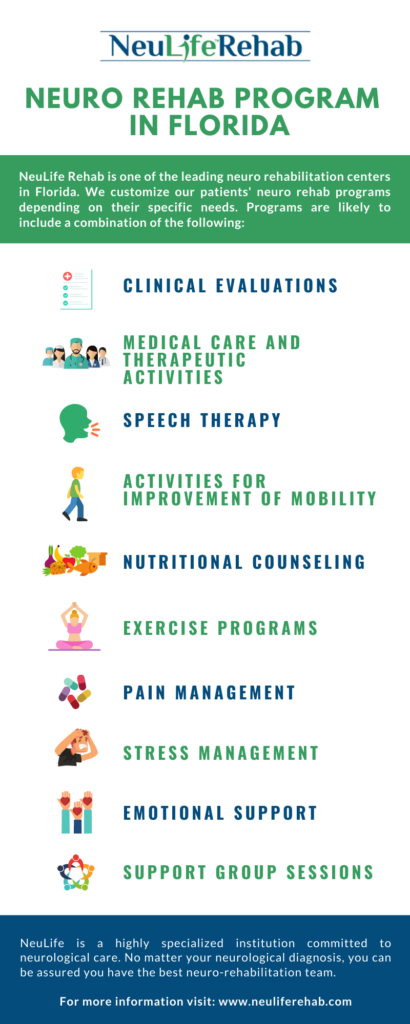 Where can I Find Brain Injury Rehabilitation? 
NeuLife Rehabilitation is a specialized rehabilitation program for a wide range of catastrophic injuries. We have one of the best teams right here at our inpatient neuro rehab center. 
Our program is customized to meet your individual needs. Care plans are structured to promote the highest possible level of functional independence for successful community integration.
Our clinical experts treat a wide range of diagnoses and injuries.
Call today with any questions or concerns regarding brain injury. Alternatively, you can schedule a tour.
References 
Brain Injury Association of Arizona (2018, January 23). Who are the rehab specialists? Retrieved: https://www.mayoclinic.org/tests-procedures/brain-rehabilitation/about/pac-20393150
The material contained on this site is for informational purposes only and DOES NOT CONSTITUTE THE PROVIDING OF MEDICAL ADVICE, and is not intended to be a substitute for independent professional medical judgment, advice, diagnosis, or treatment. Always seek the advice of your physician or other qualified healthcare providers with any questions or concerns you may have regarding your health.